The AUSPAN story: More than just shed builders.
Since our Western Australian family-owned business started out in 2009, we've grown to become one of the country's leading steel frame construction companies, spearheading a new, more streamlined and cost-effective era in design and construction here in Australia.
Real growth built on real values
Like most successful and growing businesses, our success is built on the relationships we've developed – with our suppliers, our partners and, of course, our clients.
These relationships are, in turn, built on the core principles of:
Customer Focused – We are exceptionally passionate about delivering value so every single client becomes a 'raving fan'.
Honesty – We say what we do, and do what we say.
Integrity – We adhere to the highest moral principles and professional standards.
Loyalty – We fulfil our duties responsibly.
Achievement – We deliver on our promises while giving you an effortless experience.
Our company today
With clients spanning the industrial, commercial, agricultural and government spectrum, we are now widely regarded by our clients and competitors alike as pioneers and industry leaders.
From our integrated in-house design, engineering, fabrication and construction expertise, through to our unique on-site 'AUSPAN roof lift' installation process, we're continually innovating and evolving our capabilities and systems to provide better, faster and more efficient solutions.
Our most recent brand addition to AUSPAN Building Systems Pty. Ltd. now offers our clients the option of any cold rolled kit shed requirement. Please visit www.shedspan.com.au for more details.
Always thinking about tomorrow
Our progressive approach to embracing and developing new technologies and techniques has established us as the steel frame construction partner of choice for clients across Australia, and we apply the same progressive thinking to every project we take on.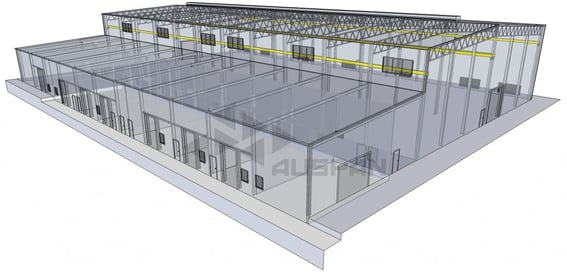 For us, it isn't simply about constructing a steel frame shed, workshop or building. It's about developing a solution that meets your unique requirements – today, tomorrow and into the future. And it's about delivering that solution as seamlessly as possible, reducing lead times, costs and stress.
Find out more about what we do and why clients across Western Australia and beyond choose us to design, manufacture and install their steel frame sheds, workshops and buildings. Alternatively, talk to us about your requirements, or request a free quote